. . . COMMUNITY

AND

POST 154 . . .
Special Events . Roadtrips . Community Events


Canteen Drinking & Games . Opens @ 5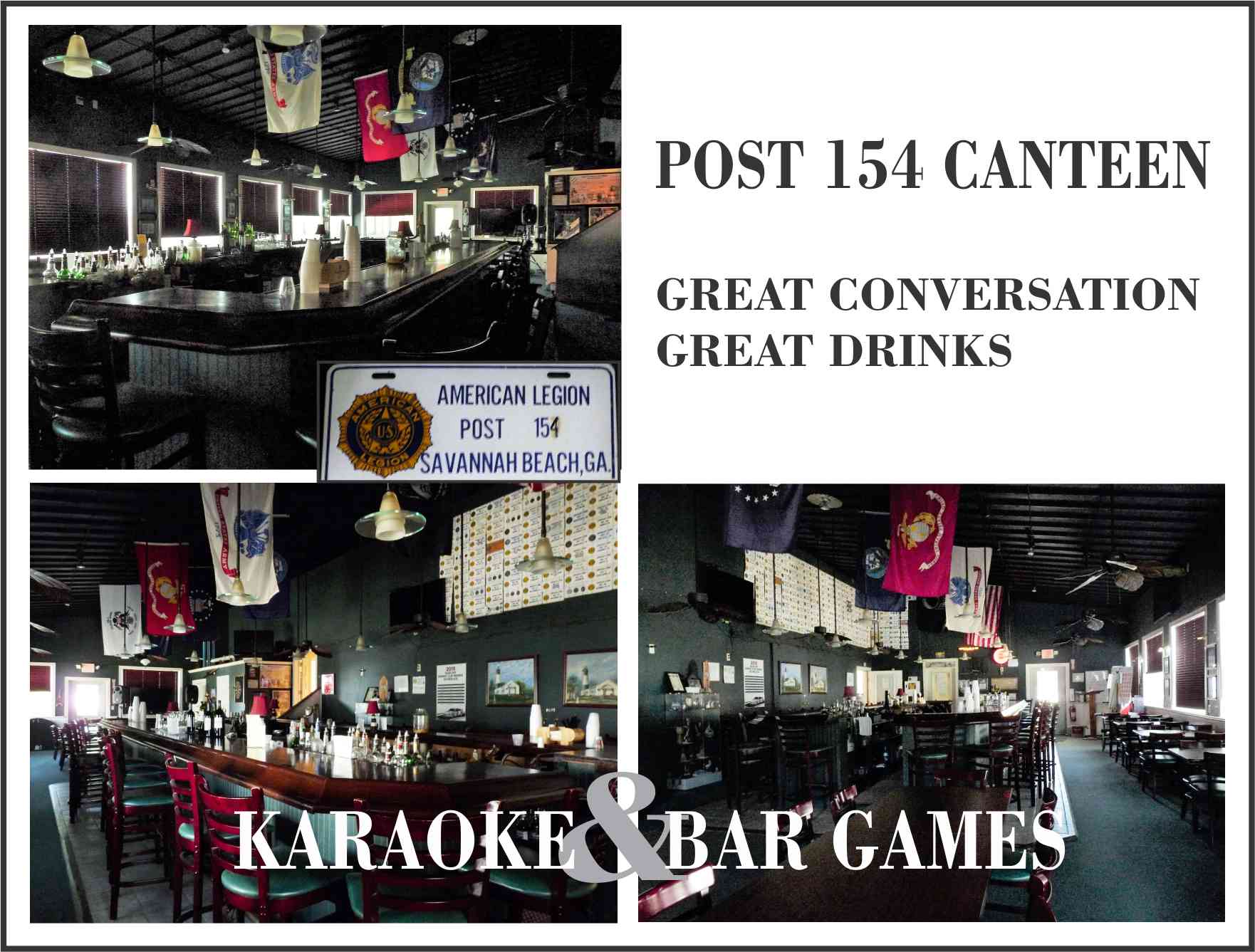 We welcome you as an active or retired veteran,
a legion member visiting Tybee from another legion or,
a guest of a member.
. . . . . . . . .

SCREW YOUR NEIGHBOR! TUES. THURS. SAT. BAR BINGO, FRIDAY . 6:30 START
Please feel free to download the article and share with your organizations!

Per the requirements of the National American Legion, please sign in at the entrance of the Canteen if you are a guest,
or a guest of a member. If you are a member visiting us, please present your signed membership card to the bartender
sorry, no children permitted in
The Canteen.
Tourists Are Welcome!
Savannah Georgia Tiny Home Project For Vets!


...Post events, updates, are posted as provided to the web designer...

WE INVITE ALL TO VISIT
THE POST 154 HALL
FOR BINGO
AND SPECIAL EVENTS
Take A Road Trip! Call Ahead For Hours!

The ALA, Unit 154,
Announces A Busy Series Of Events!
They Are Requesting Your Support Of Our Local Food Pantry, Rising Tyde,
To Help Our Residents On Tybee Island.
We Invite All Members Of Post 154
And The Surrounding Public
To Donate Food Items For This
Greatly Needed Cause!
Monetary Donations Are Always Welcome!
. . . Remember . . .
Please Bring Extra Canned Goods Or Monetary Donations To Our ALA Meeting October 11th!
Let's All Do This Together!

The ALA, Unit 154, Invites All To Their
6th Annual Holiday Market!
If You Have Not Attended, Save The Date!
Each Year Has Been A Tremendous Success
Offering The Finest Artisan Wares In The Area!

Saturday . December 4th . 10-5!
Shop For The Holidays!
It Will Be Here Before You Know It!

The ALA, Unit 154, Can't Express Enough To You The Importance Of This Project!
We All Need To Support These Young Men And Women Who Are Defending All Of US Around The World.
When The Warriors Of Today Receive Our Soldier Boxes They Realize Our True Appreciation For Their Personal Sacrifices... Leaving Their Family, Friends, and Lifestyle To Ensure Our Security, Our Democracy.
Unit 154 Will Include Your Loved One In Our Mailing!
Call Janice ... 912.663.1717
DROP OFF DONATIONS AT POST 154 NOW THRU NOVEMBER 14TH!!
FYI- The Young warrior pictured participated in the Irreverent Warriors Ruck March On Tybee Island. The event honored and supports all vets suffering from PTSD.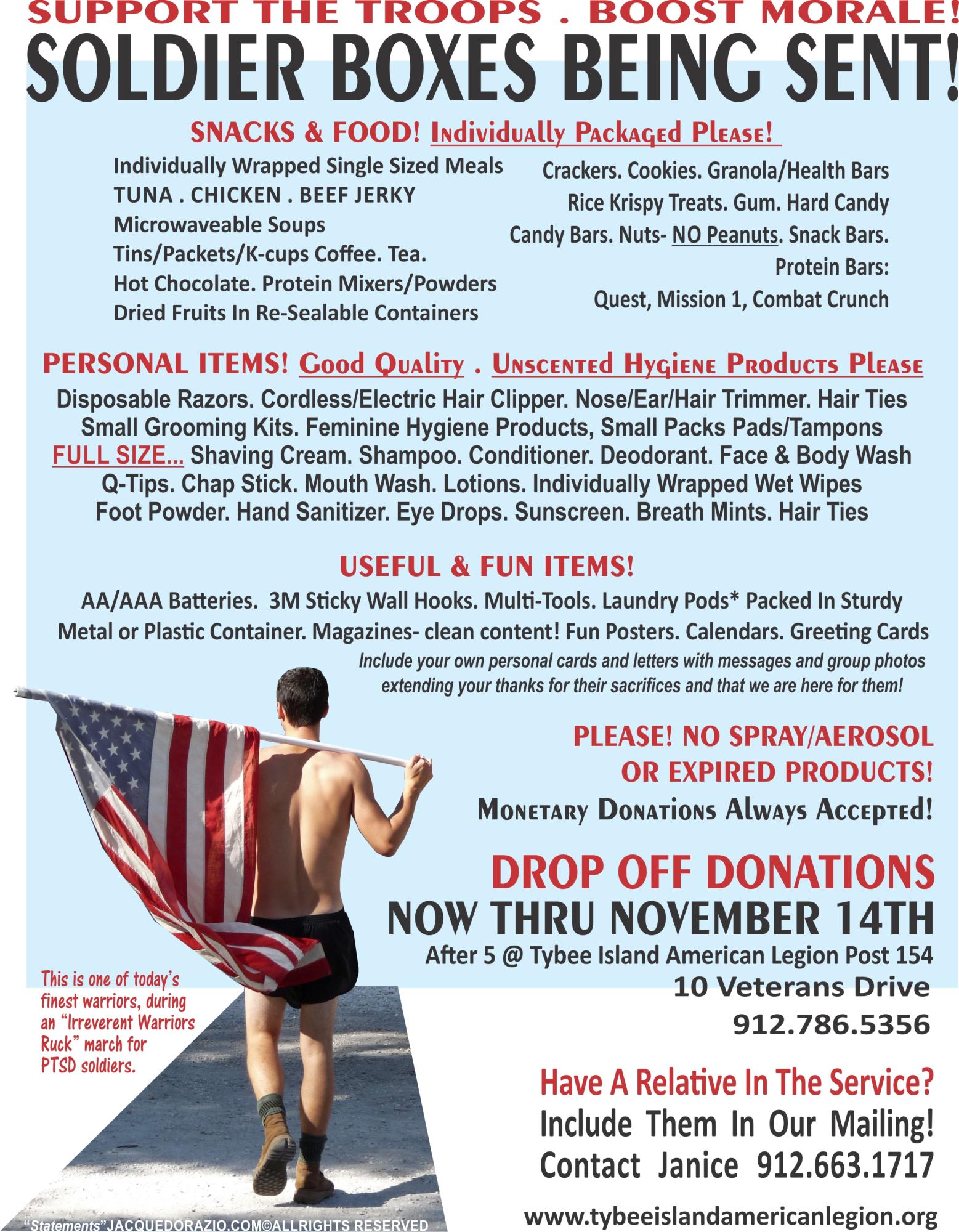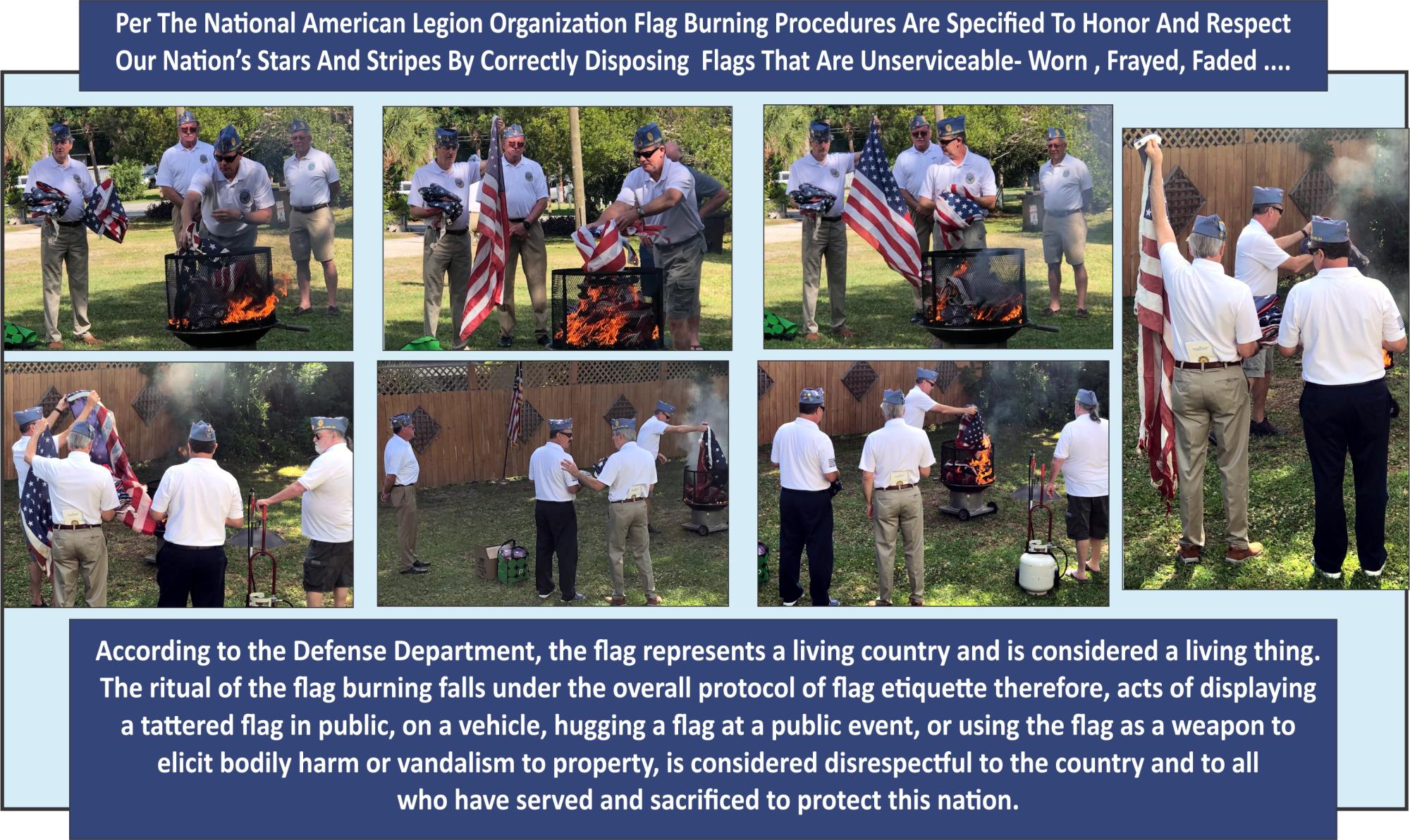 UPCOMING SPECIAL EVENTS, SAVE THESE DATES!!
Download the list of items and take shopping! There's two lists on the page to pass on to a friend!
. . . COMMUNITY SPECIAL EVENTS . . .


This project has successfully been progressing over the years.
it had been brought to the attention of Post 154 in their planning stages however, this Post was unable to help out at that time.
Happily, Janice Elliott,
ALA President,
had Executive Director, Cindy Kelley, speak
at a ALA meeting in September 2021.
Looking forward to possible Legion support in the near future!
Thanks Janice!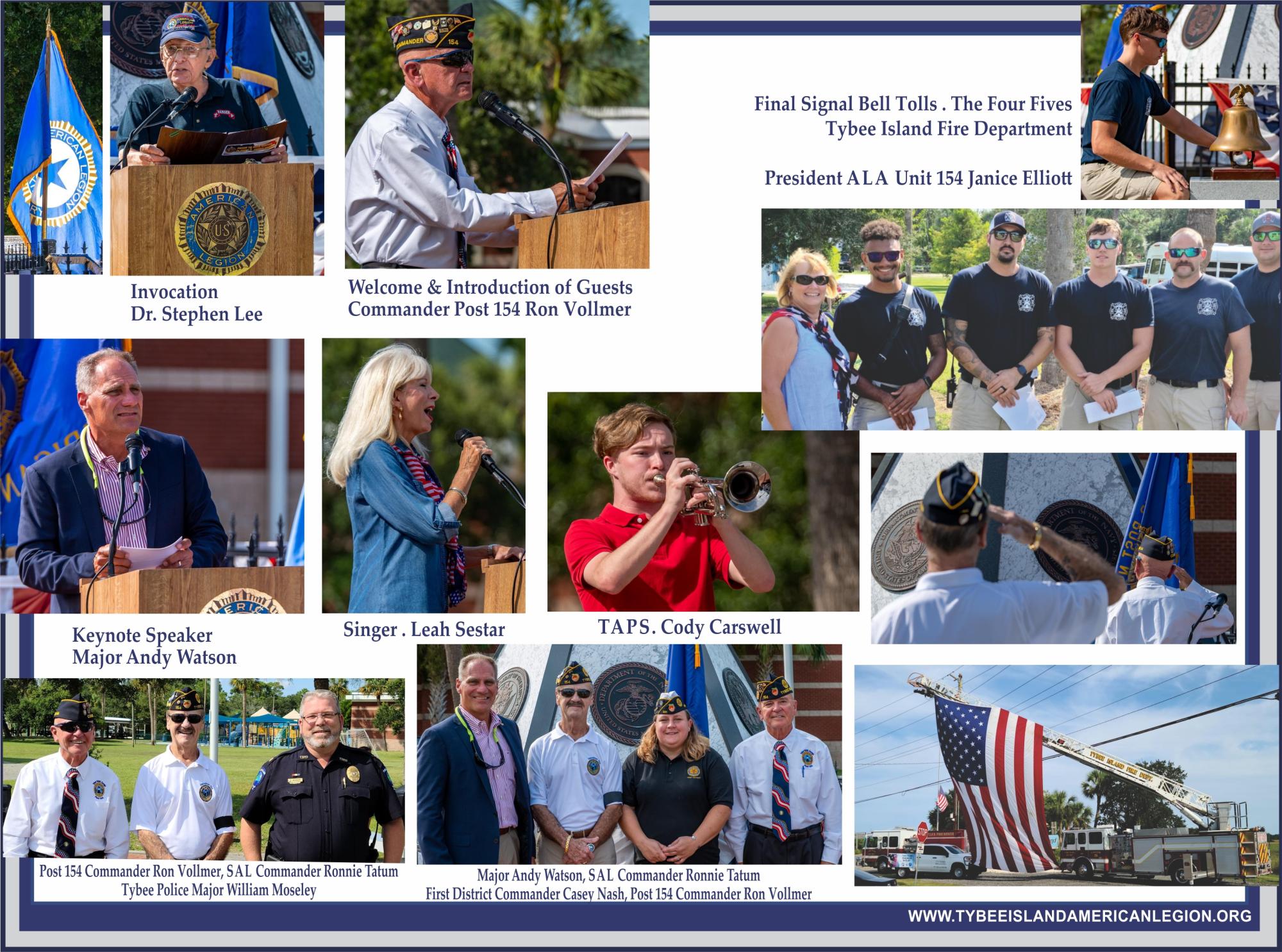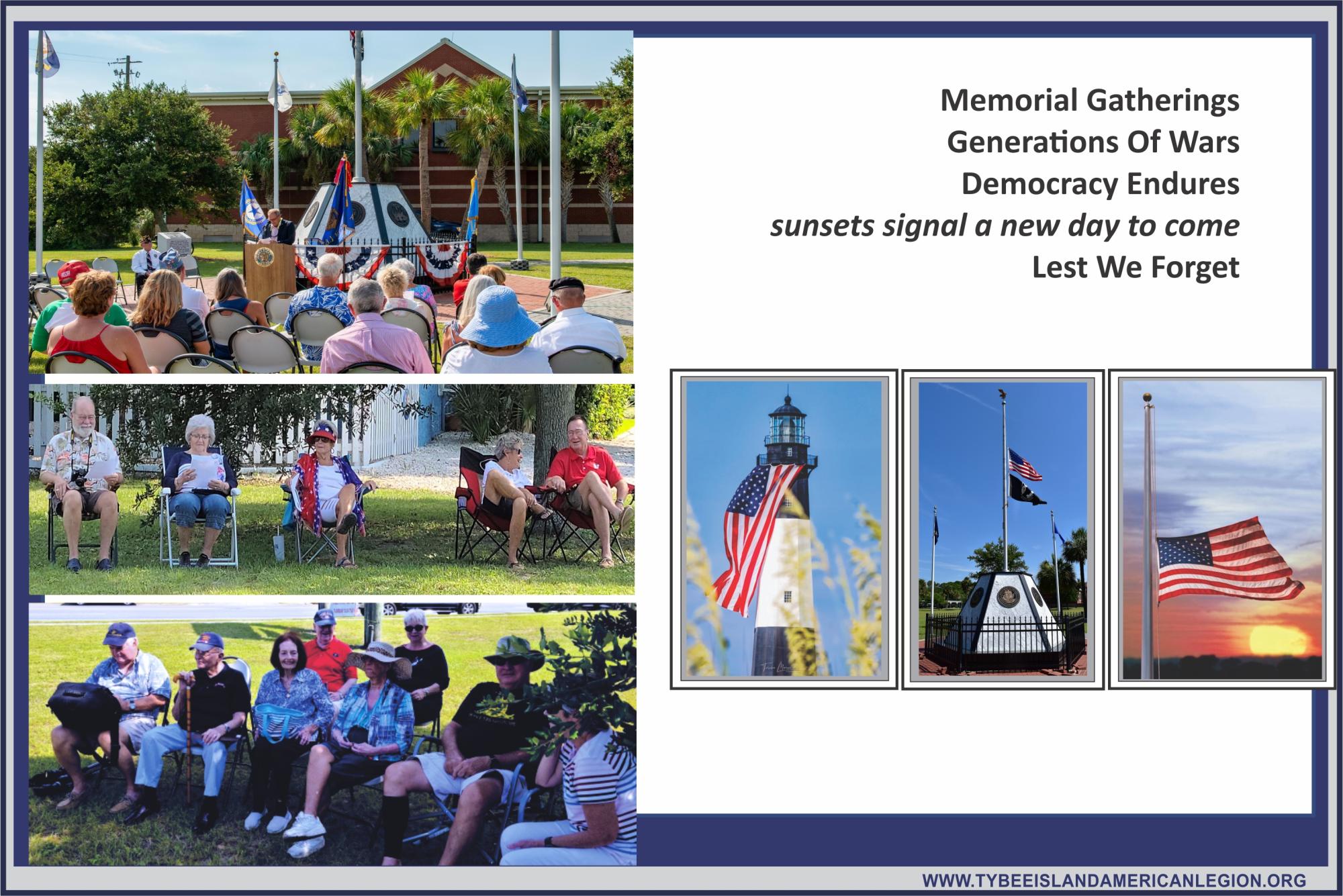 National Poppy Day, visit the
MILITARY & LEGION FYI page.
On this page is a wealth of articles on our national and military history according to the particular month of the event.
It is with deep gratitude to all who attended and participated in this memorial event for all who perished on 911, 2001, and continue to suffer from this insideous attack.
Previous generations had Pearl Harbor Day, our generation will have this day marked in our memory . . . I hope each person pauses that morning of every September 11th and remembers . . .