The Legionnaires of Post 154 Welcome You To Our Webpage
Where We Share Our Officers

,

Events And Awards.
officer_installation_2016-17_front.jpg
July 11, 2016 . Installation of Legion Officers for 2016-2017.
Slideshow & Photos Provided By Jacque Dorazio, all rights reserved.
Ron Vollmer Awards Presented To Outstanding Volunteers 2017-2018.
awards2018presentation1.jpg
Legionnaire Awards 2018
Ron Vollmer
Commander
2018-2019
The officers for
Post 154 . 2017-2018 were not provided to the web designer.
The commander was George Walker.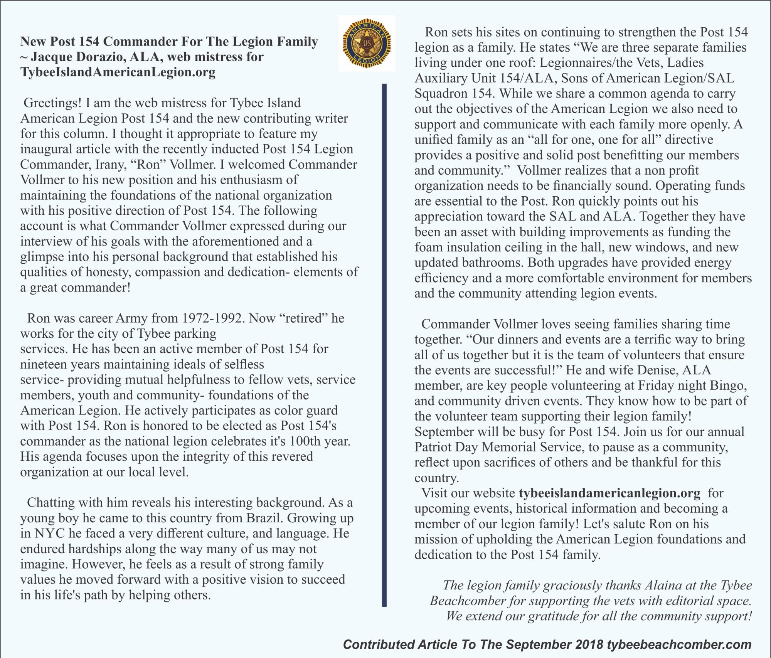 Due To This COVID Year, The Election For Post 154 Officers Was Not Conducted.
The Officers From 2020 Have Carried Over Into 2021.
Perhaps You Would Like To Make A Difference At Tybee's Post 154 ...
How You May Nominate Someone- Or Yourself!- For The Coming Year.